About Me at Ace Tennis Coach

Hi, I'm glad you want to learn about me at Ace Tennis Coach. My name is Charles "Bud" Cox. I began playing tennis at age eight and played junior tennis in my home state of Georgia. I played sectional and national events, and after graduating from high school, joined many of my fellow junior players in collegiate tennis. The college team camaraderie was fun, especially as we traveled to play against other schools.
My travels continued during the summer months and then year round after graduating from university. Before long I was qualifying and getting into some pro events. I got to compete in all the grand slams in doubles and several in singles. I was fortunate enough to play against several of the top tennis legends including John McEnroe (in doubles) and Andre Agassi (in singles).
When I left the tour, I was certified by one of the largest professional tennis teaching organizations in the world. I taught recreational-level kids and adults for several years. I was bored feeding balls day in and day out. I wanted something more. If you've ever taught tennis maybe you can relate.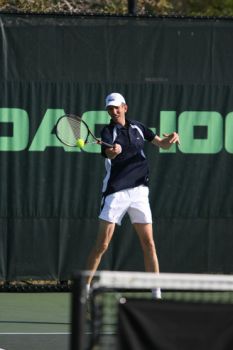 In 2005, I found Heath Water's site, Virtual Tennis Academy Magazine. I met with Heath and began studying his instructional tennis videos and began to apply the modern technique to my own game. Within two weeks I played a tournament and felt more confident because of the technical tweaks I added to my game.
Soon I began coaching aspiring tournament players. The first few years I took a group of kids in a local subdivision with no tournament experience and helped them compete and win matches on the state level. It was a joy to see their pro-like technique, and many people commented on their excellent form. They wanted to know more about me and my method of coaching.
Pro-like technique doesn't come naturally. That's why many players have glaring glitches in their form. Coaches realize it takes an understanding of how to get the student to develop this type of tennis technique over time. After the form is established, a base of consistency can be built to help them know and execute tactics and strategy.
I'm currently working with experienced sectional and national level tournament players, so the consistency foundation is pretty much in place. Execution of the tennis tactics and footwork is better because of the racket and ball control technical abilities they possess from extensive match play.
I have my Florida real estate license and enjoy helping people find their dream home on Marco Island. When I'm not coaching or selling real estate, I work with a non-profit charitable organization called Life Connection that I founded, which helps children around the world develop spiritually, mentally, and emotionally. I also enjoy biking, hiking, and traveling.
I hope you enjoy the site, and feel free to send me any questions or comments. I would enjoy collaborating with you as a fellow coach...to encourage each other in our craft as "ace" tennis coaches. I'd also enjoy helping any player with your game.






Return from About Me to Ace Tennis Coach