"Are You a Tennis Coach and/or Player Looking For An Enhanced Experience In This Great Game?"
Hi and welcome to ACE Tennis Coach. My name is Charles "Bud" Cox. I've been around the game for forty-five years—at one point I was blessed to be ranked in the top 150 in singles in the world and in the top 65 in doubles. Whether you're a budding pro, seasoned veteran coach, or beginning student, I welcome you on this journey with me to become an "ace" in our sport.
Funny thing is, for a lot of the years I played I had slight flaws in my technique and in my tactical and mental approach to the game. That's why I'm passionate about helping others with similar challenges. Most of the players that come to me have at least one, if not many more, of the same technical glitches, tactical deficiencies, and mental challenges. (You can see some of the technical issues in the "before and after" videos on the "tennis student" page.)
So what has changed with my tennis game and coaching? How can I help you get the most out of your game or in your instructing of others?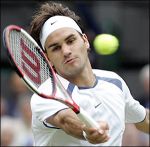 I began coaching tennis in 1989 after I left the pro tennis tour, and I was certified as a tennis coach in the early 1990's. But the traditional approach didn't help me develop my students beyond a certain level. In 2005, I learned more in a short period of time with The Alliance for Coaching Excellence than I had learned in all those years of playing the game. I immediately applied what I learned to my own game and have been developing top junior players since then.
There's no guessing with Dartfish video analysis, a valuable tennis coaching tool for my students. The use of a tennis ball machine as a training aid also accelerates the development of various aspects of the game. This website also provides sports injury prevention and physical therapy information.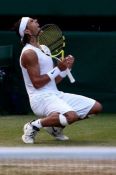 A nine-year-old boy constantly "scooped" his forehand. After only one tennis lesson of applying several tips he was crushing his forehand with topspin. Another forehand success story came from an adult student. After his first lesson he commented, "That's the best I've ever hit my forehand in all these years."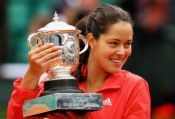 I'll respond to your "tennis tips" questions and comments the best that I can and write about various topics on the site...
* Why Wimbledon is a slam favorite

* Rafael Nadal is good on clay AND grass because of his speed, passing shots, and left serve

* How to play tennis from scoring to strokes

* History of tennis and its place in the modern game

* Tennis equipment like the tennis ball and tennis racket, and where they came from

* Tennis news about the latest entry into the Tennis Hall of Fame

* How Juan Martin Del Potro won his first slam at the tennis US Open

* Who will dominate the ATP tennis and WTA tennis in the coming year?

* Which tennis tournament is the player's favorite?

* Athlete nutrition is important to success on and off the tennis court

* Are certain tennis ball machines better than others?

* Is the tennis backhand important to learn at an early age?


I update Ace-Tennis-Coach.com frequently, so please subscribe to my e-zine, Inside Ace Tennis. You'll read about tennis news and tennis tips. It also identifies the new information that I've added to my website.


Also...
Please subscribe to my Tennis Blog. I will let you know whenever any new or changed Web pages appear on Ace Tennis Coach. By subscribing to the RSS feed (see the left column), you stay up-to-date with all the new pages as they go up, as well as all special postings.
Okay, enough of the chatter. Let's start…
TABLE OF CONTENTS:
<i>The Tennis Blog</i> keeps you up-to-date about Ace Tennis. This convenient format brings you the latest tennis tips, tennis news, and tennis drills.
Tennis tips to take your game to new heights. Learn about sports injury prevention, physical therapy information, athlete nutrition, tennis video, and the tennis ball machine.
Tennis student is offered a free half hour analysis of one stroke. The before and after video shows the improved technique after just one lesson.
Tennis news is gathered from around the world through various media sources. We get the latest information from the Internet, TV, and print publications.
Athlete nutrition can take your tennis game to the next level. Your body is a "machine" and you need to put in good fuel for it to run efficiently and last longer without breaking down.
You will learn about me at Ace Tennis Coach. Charles "Bud" Cox wants to help you reach a higher level with your tennis game and coaching.
Contact me at Ace Tennis Coach. Please submit any questions, comments, or requests. I would love to dialog with you about your tennis game.
Get the inside scoop on Ace Tennis Coach. Subscribe to the Inside Ace Tennis newsletter...it's free. You'll find tennis news and tennis tips to help you with your coaching and game.
Tryout for Catalyst Tennis Academy--TEAM ELITE of up to 6 players. When all spots are filled we have a waiting list for the unlikely event that an opening becomes available.