How Rafa Nadal Dominates on Clay Courts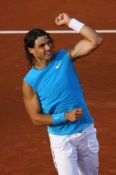 Rafa Nadal is having an amazing run during the clay court season. Can anyone beat him at the French Open? Maybe the more important question is, "How does he win so readily on the clay?" Obviously he's a great defender. He does this with his movement, shot-making ability, and determination. Let's look at each.
Nadal has the best recovery in the game. He doesn't wait around and watch his shot. This is something I constantly have to work on with young kids. They like to watch their shot. The Spaniard moves back into position for the next ball. This way he is ready to go for ten, twenty, or even thirty balls, if needed.
Rafa's shot-making ability is enhanced by the clay because he has a little more time to run down balls. He also can hit more angles on clay and go behind his opponent. He can use the drop shot to bring in his opponent, then look for the opportunity to pass them. He can step up and take it to his opponent, which is important on all surfaces including clay.
One of the keys to his passing shots is the strength of his backhand. Early in his development he played right handed. This strengthened the right arm for the left handed backhand that he now utilizes. Also, the wrist action on his forehand is what gives him the extreme angles and spin. He can dip the angle or blast the ball by his opponent.
When you think of tough mental players in all of the history of the game, he has to be right at the top. He is unwavering and tenacious. He is prepared to go the distance on every occasion. He must train for this, and I'm sure some of this is his natural ability to focus on the task at hand. This kind of focus can be learned through training properly.






Return from Rafa Nadal to Tennis Blog

Return from Rafa Nadal to Ace Tennis Coach