Tennis Ball Machine Training
Tennis ball machine training is a great way to get the workout that you need to take your game or coaching to a higher level. Sports Tutor is the ball machine brand that I've used. My Tennis Tutor Plus model has been a good choice for my coaching needs. The initial investment was several thousand dollars, but the return on my investment has been well worth the cost.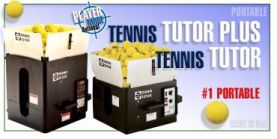 The machine comes with a complete set of instructions. Sports Tutor helps you understand how to use the machine and the maintenance issues to be aware of. The main thing is to charge the battery immediately after each use. I have the smart (fast) battery charger. It takes between six to ten hours to fully recharge depending on how much it was discharged during use. It can't overcharge with the smart charger.
Another maintenance issue to watch is the wear on the ball throwing wheels. They can get build-up of dirt and ink. These can be cleaned every 100 hours of use with a coarse-grit (40 to 60 grade) sandpaper. Just reach through the ball ejection opening and "rough-up" the inside groove of the wheels.
Sports Tutor customer support is excellent. They will walk you through any maintenance issues. I've taken the entire machine apart on several occasions to replace a battery or adjust the elevation setting that a ball knocked out of place.
The machine is easy to keep clean. A damp rag works well for wiping down the outside. You can vacuum the inside on occasion. The machine weighs less than 50 pounds, so it's easy to load and transport in a car. It has two rear wheels and a front pulling arm for easy maneuverability.
One of the key features that I highly recommend is the remote control. If you're a coach, you can stand next to your student and start and stop the machine. This gives you time to talk with the student. It also gives the student the appropriate amount of rest time. The remote also works great when you're training on your own. You can start and stop the ball feed at will.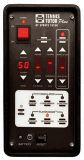 The control panel features that I use the most are the "Random" oscillation and "2-line narrow" and "2-line wide." Random is good for moving and playing point like simulation. The 2-line helps with the volleys because it shoots consistently back and forth. Of course, the "Ball speed," "Elevation," and "Interval" (amount of time between ball feeds) are all important features.
One of the keys to the accelerated improvement of players is the use of the tennis ball machine. You can do basic warm up drills and advance match play simulation. The machine doesn't ease up when the student gets tired. We like to train our students to be just as tough when they step on the court against their next opponent—like a machine.

Return from Tennis Ball Machine to Tennis Tips

Return from Tennis Ball Machine to Ace Tennis Coach