Tennis Junior and the Chair Umpire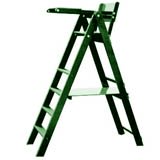 Tennis junior nationals for boys and girls (12 and under) were held at Peachtree City, Georgia. There were some dedicated officials present, which all sanctioned USTA junior touraments have. The umpires at these junior events generally love what they do and gladly volunteer their time. Most are big tennis advocates and enthusiastic about the sport.
I was surprised to witness two back-to-back semi-final matches where the chair umpires called the score wrong. The umpires were marking their scorecard, but somehow missed a crucial point. In their defense, it was a windy day and maybe the difficult conditions made it more challenging to keep up with all the action.
The first semi-final match pitted a local Atlanta girl against a girl from Puerto Rico. In a super tie-breaker, the Puerto Rican was up 6-5. She won the point, 7-5, but the umpire called 6-6. She questioned the umpire, but he didn't budge. The score was 10-8 (for the Puerto Rican), but the umpire's scorecard had 9-9. Justice prevailed—the Puerto Rican won 13-11. She also won the tournament final.
In the boys' semi-final match, the number one seed from NC was beating a FL player 6-0, 5-2. The top player lost the next game for 5-3. He won the first two points of his next game to go up 30-love. The other player won the next two points for 30-30, but the chair umpire called 15-40. The top seed questioned the umpire, but the he stuck with 15-40.
These kids need to get credit for not throwing a fit. I wonder what some players from the past may have done. (I won't mention names :) The North Carolina kid could have "re-played" the points out loud with the umpire, but I'm not sure that he was 100 percent confident of the score in the "heat of battle."
The score discrepancy fired up the FL player. (Maybe he should have helped the umpire correct the score, but he was deferring to the official to do his job correctly.) The FL boy won 7-5. The top seed didn't "choke" or give the games away. The FL boy just started playing in the "zone" and won 10-1 in the super tie-breaker. He was elated and the top seed was crushed. What an amazing turn around.
The moral of the story...help the umpire out. He's your friend. He's also human, so keep the score in your head (call it out loud if there is no umpire), and immediately speak up if there's a discrepancy. You'd hate to lose a match because of an error in scoring that had nothing to do with the play on the court. But remember—keeping the score IS part of the game on the court :)






Return from Tennis Junior to Tennis Blog

Return from Tennis Junior to Ace Tennis Coach