Tennis Student Annika Before and After Instruction
Tennis student Annika is highlighted in this Dartfish video analysis side by side a pro tennis player before technical instruction in November 2008. This is followed by Annika's advanced technique after one hour, one, and seven months of coaching with Charles "Bud" Cox.


A few weeks went by and I ran into Annika's parents at another local tournament. We continued our conversation about coaching methods. Annika didn't have a permanent coach, and they wanted to see if I could help her technically and tactically. I agreed to do an evaluation tennis lesson with her. They came to my courts, and we did the hour-long lesson.
I observed Annika's current technique. She dropped the tip of the racket behind her on the forehand almost like the racket was too heavy for her. I was concerned she might get injured with this technique. One of the great things about the modern technique is that it's natural and normal, so it's easy on the joints, which helps prevent injury.
We got Annika's forehand preparation in the right direction and added the "ending by the hip" to help her generate even more spin. She was "pre-stretching" her wrists on the backhand, so we worked on keeping the racket at an angle up to the sky and her hands to the front side of your body (not behind her back).
We also focused on Annika's forehand and backhand volleys. She began to extend more out in front on the forehand volley. She began to develop a one-handed backhand volley. This will help her as she advances to higher levels. The one-handed backhand volley will give her more range at the net.
Annika had a big early "back scratch" on the serve form. We wanted to eliminate that, so she could get better wrist snap. Her back scratch caused her to use too much arm and not enough wrist. As she grows and develops with her revised form, she'll gain more and more "pop" on the serve.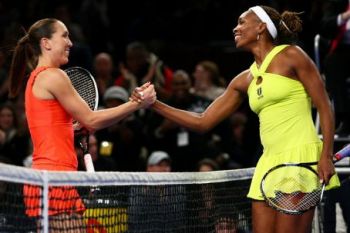 Annika was ranked 137 in the girls 12s in Georgia in November 2008 when we started working together. She quickly moved into the top 100 then decided to play up in the 14s because her 13th birthday was approaching. She has played better against the older girls and won quiet a few matches.


Return from Tennis Student Annika to Tennis Student

Return from Tennis Student Annika to Ace Tennis Coach