Turmeric Curcumin Can Help Keep the Swine Flu Away and Benefit You on the Tennis Court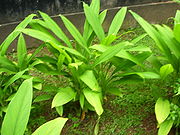 Turmeric is a spice that comes from the ginger family. Curcumin is one of its main anti-oxidant extracts. This is the yellow ingredient that curry is made of. It can fight against inflammation and it kills infectious microbes in the body. It's known as a cancer deterrent. It also can promote heart health as it affects the detoxification process.

Why hasn't this ingredient been front and center with the Swine flu scare? Is it the strong yellow color or a curry stigma? Are people afraid to trust the natural healing properties of this ingredient? The body is an amazing creation that can heal itself—if given the right opportunity.

This ingredient is one that will give the body the fuel it needs to heal itself. It's inexpensive. I use a bottle of capsules that costs around $20 (including elderberry, zinc, and selenium). There may not be as much money to be made in promoting this ingredient as certain pharmaceuticals in deterring the Swine flu.
I won't get the Swine flu vaccine. It is untested and many say it can cause harm to children and the elderly—those with weaker immune systems. Why would you inject a foreign substance in your body just on the chance that you might get a virus? It doesn't make sense to me.

The better way is to take care of your body by building up the immune system through healing foods and exercise. Yes, we'll be exposed to viruses. But a strong immune system can fight off all the foreign invaders. That's its job.
Dr. Mercola has good articles on the Swine flu and how to prevent this type of illness. There are other immune boosting ingredients. I've written about some of these like Resveratrol and other ingredients at the athlete nutrition page. If you have any questions about turmeric curcumin, please contact me. Stay healthy and stay on the court.